Apparently I am a lover of quick and easy food.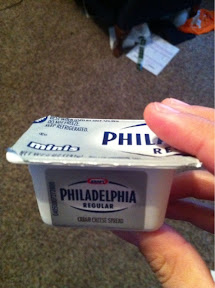 These are the greatest for on the way to work breakfast. Yay for crumbies on fresh clothes. Lucky for me, bagel crumbs are dry and brush right off. My favorite cream cheese flavor as of this morning? Chive and onion.
Also fabulous as of late is the Keurig coffee maker one of my peers has. I have envy, and have enjoyed the delicious
as well as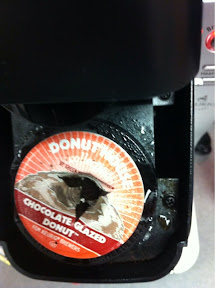 The later takes the cake.
They make tough competition for the once again seasonal white peppermint mocha by Starbucks I had at a coffee rendezvous with my dad.
This computer warning is making me curse under my breath.
As is this stupid scarf that is not relaxing to knit and does not help me relax before bed. It's been in the works since 2008 and I'd like it done so I can move on.
Aside from all the US-ual reasons I miss Luke, here are some that are in the forefront this week:
1. Cold sheets. The temp has dropped and things are a wee bit chilly. This is when having a Jacob Black, werewolf, always warm husband comes in handy.
2. The latest book in the Eragon series just came out. While I love that he reads, and reads stuff I'm into, it'd be nice to hear from him every once in a while. If I was there in person I could just invade his space.
3. I totally miss invading his space. Like taking whatever I'm working on, sitting as close to him as possible and then continuing whatever I was working on. (he looooooves this one.)
Counter argument:
It's crunch time at school. I'm a wee bit snappy. It's nice that when we DO see each other were 100% focused on each other and we have good chunks of quality time carved out.
- Posted using BlogPress from my iPhone