The things that have been on my mind as of late.
Notice that not one of them is school work which has consumed my life as of late. Ok almost consumed my life. Jennifer and I managed to squeeze in a trip to the blood bank where she won us two tickets to a midnight showing of Breaking Dawn.
Apparently you have to wait 8 weeks to give blood. Im up again Dec 6th.
So we rebelled against our sleep schedules, and headed to the movie. Along with every other Twilight fan.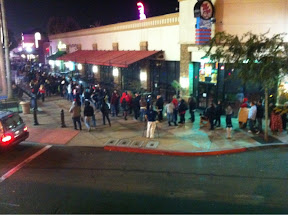 On the last release can we just declare a holiday?
Also pictured is my leaves scarf, finally finished!
Any tips for taking better pics in a dark theater with an iPhone?
We managed to keep our eyes open til it started, and then we had no trouble staying awake.
The next morning however was interesting as I had taken a sub job not remembering why I had left Friday blank. One of my little guys made my day though as he brought me this pretty flower!
Lastly, a Little MissMatched catalog found me yesterday. I'm crushing on these classic Mickey Mouse socks. I'll have to pick some up at the shop in Down Town Disney.
How will I end up there you ask? Luke and I are spending Thanksgiving with Aunt Audrie, Grandpa and Shan. We're planning to make a nice little side trip to !Disneyland! with some early Christmas present 3 day park hopper passes. Luke flies into LAX on Monday! Woooh! So excited!
- Posted using BlogPress from my iPhone