Friday: One of my classmates began a baby quilt for her first niece.
My rain boots came!
Lukes response to that picture: "Hahahhajahajajahahahahaha! Those are ridiculous!" I still love them and am now more determined to wear them more around him so he can hear all the compliments I get for them.
I helped "chaperone" an iceskating birthday!
I love skating! Add some 8 year old girls to the mix and we had a blast!
On saturday I took some quilts to the fair! One I entered and some others entered! We decided it's high time we "represent!"
That night Rachie (Rachel) and I hung out and had a mellow night playing legos. She helped my put together part of the Hogwarts castle/bridge.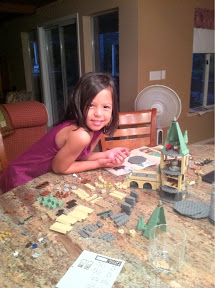 I have been bit by the lego bug folks. The globe spins, the buildings have connector spots!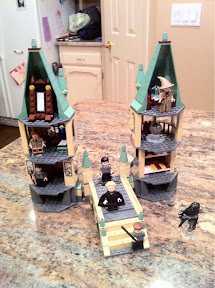 It probably helps that they come in every color. And the minifigs...they're totally cute and collectable and interchangeable. What's not to love!
Ok maybe how lose-able they are.
Rachie asked if Legos are my new hobby. I said "tscha!"
Speaking of hobbies. I'm leaving for Quilt Camp on Thursday. Funny how getting ready for quilt camp requires just as much pre projecting as what I'll get done in the mountains. Maybe that's why we get so much "done at quilt camp." we count everything we did before. Today I bought and cut binding for some quilts my mom had made (to sew on at camp) I put a border on a quilt(so I can put another on at quilt camp) I cut out squares of scrap batting and red and white scraps from moms stash (so I can assemble a rag quilt at camp.) The list goes on. Needless to say I'm up way past my bed time so I don't cultivate a cold to work on at quilt camp. It waiting to pounce I can feel it.
Lastly, I'm thinking about starting coffee. I had three mocha last week and regular coffee might have been a better...no...cheaper choice.
- Posted using BlogPress from my iPhone