Ever have those moments when you're in the middle of something and all of a sudden you wonder "what the heck was I thinking getting myself into this?!"
Well that was me about two pages into my first science test. Yikes bikes.
Similarly I have a friend (Debbie) who had a moment like that in that she was cleaning her windows on her roof, shut the window, locked herself out of the house and fell off the roof after the ladder she tried to use to get down. She gets what I'm saying. Please throw an extra prayer up to the big guy on her behalf.
I was hanging out with her and I caught a glimpse of David, her son's "One in Every Color" frisbee golf frisbees.
I also got a chance to visit with another one of my BFFs Emilie (Debbie's daughter) when I picked her up and dropped her off at the airport. Emilie and I can pick up conversation right where we left off even though we live in different states. AND I was totally on time for the pick up and drop off which I'm sure was a HUGE relief for her as I made her late almost every day we carpooled to high school. By the time I started driving myself I can't blame her for having considered murder on several occasions. (I had a whole sappy post with pictures like the one I did about Destinie and Ryan but it got cleared from my phone and I primarily blog on my phone from bed just l before I fall asleep or as I'm waking up and I keep forgetting to grab the pictures. Sorry Em, sleep over pictures.
My In-Laws came through town on their way to take Jay, Lukes youngest brother to Cal Poly! We had breakfast the morning they left at Batter Up Pancakes, the best breakfast place Ev. Er.
My cool math professor has one in every color math manipulatives. I totally interrupted him and asked if I could put him on my blog and as soon as the words came out of my mouth I knew I had done a bad deed. If I had been my teacher and my student had interrupted my teaching I would have made them move their clip from green, straight past yellow to red!!
Once I had been chastised by Destinie sitting next to me, I still it my picture.
Tanya and I have made to window screens. Be proud. As I innitiated the project I also initiated some experiments with anchoring the screen similarly to pre quilt basting the quilt to keep everything tight! The method is not yet perfected.
In case you didn't know, they sell one in every color Nostalgia at Michael's. We used to chew this all the time! 2 sticks in and I remembered how bad it is. I threw it away.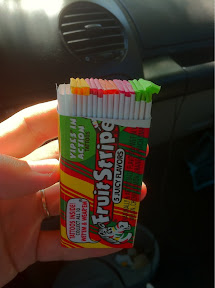 One jn Every Color folders for projects:
And One in Every Color no bleed fine tip sharpies. My classmates not mine...they ARE on my list though.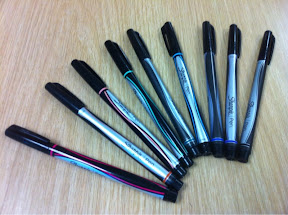 Today is my sisters birthday. I sent her mail yesterday. AND I called her to vent a bit. I did sing to her but I don't feel like this birthday is nearly a sister loverly as last years video and sappy post. Sigh. That's what she gets for going to Texas and liking it!
I worked on an assignment on my computer today. I seem to have started tapping the space bar twice expecting a period to show up the way it does when I tap space twice on my phone. No such luck. Do you think I'm doing too much word processing on my phone?
This semester is still waaaaay better than last semester. I love my placement and my master teacher has sooo much to teAch me! It's just the way student teaching should be!
- Posted using BlogPress from my iPhone