Because the HAND quilting on 1930s friendship quilt #1 is DONE!
Val put the last stitches in this morning. Ok, more like noon. I slept in. Here's the view from underneath the quilt all spread out again. It's like a stained glass window when light shines through. Fun for lying under and looking at the pattern, fun for making a fort, fun for playing games under.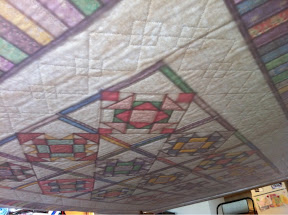 And it's done.
Ok except for the binding.
Oh yah and the sibling quilt in primary colors. What do you think cam we get it done by May 12? Anyone interested in helping?