This weekend we've been chowin' down on that cake!
Cami came over yesterday inthe morning and we had tea and cake. Then one of the interns from Luke's work joined us for Pioneer Woman's sloppy joes and cake. We also shared some cake with our neighbors while their fun puppies dried off from their bath outside. Cake makes friends. Im thinking my BIL Mark will enjoy some cake when he gets here this afternoon! There's just enough left for him!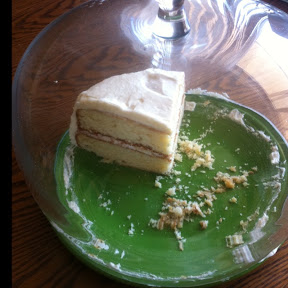 I've been knitting this thingy ma bob for national yarn bombing day. My library knitting/sewing group has been asked to yarn bomb the library! Im hoping this covers a good portion of a pillar out front! Note that I'm using the biggest needle in my set! Also note that I'm on a major scrap-stash-busting kick as I've finished two bad call balls with scrap yarn and my graffiti is scrap yarn from other projects!
As for the "In Your Face" part of the title, I just finished a quick FaceTime session with Val, Destinie and Emilie who were incidentally having coffee. (Beth is on her honeymoon!!!!) It was just like I was there having coffee too! Only with Emilie's eye, Valerie's mouth, and Destinie's hair. My face won't stop smiling!
- Posted using BlogPress from my iPhone