When Luke was a kid (10ish) his dad brought home some foam bricks from the hospital where he worked. They used them as "Bad Call Bricks" and would occasionally throw them at the TV when they thought a bad call had been made. Luke confesses to maybe throwing them at the TV for more than a bad call on mornings when he woke up early to watch sports or when he'd come in from the pool before the others to catch updates. (He's a sports loving kid. After reading "A Day In the Life Of..." he sympathized with little Henry, agreeing that one favorite sports team shirt is not enough. Luke said he wore the same jersey every day one Summer.) Anyway, Luke told the Bad Call Brick story with such fondness, when I came across a knitted ball pattern I thought "Bad Call Ball!"
Added bonus, yarn in every color.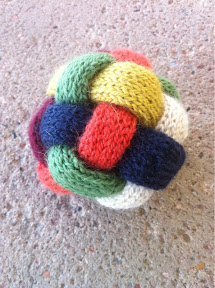 All the colorways this yarn made (or the shop I bought it from carried 3 years ago.)
I thought they were very sporty colors.
Tangled mess before I started sewing the ends together.
It's hollow inside so it flattens out quite nicely. Trivet?
Bad Call Ball just for Luke!
- Posted using BlogPress from my iPhone