Okay I couldn't resist. These are quick to make and so pretty to look at.
It's the best way to enjoy a favorite line of yarn in one ball. Sometimes I talk at Luke about how some people have bowls, jars, or displays of fruit, beautiful stones, or shells, I want to have bowls and hurricanes full of beautiful rich yarn. In my dream house I'd have a plexiglas or glass section of wall and I'd fill it with yarns in the colors of the room. Yarn as architecture right? Ideally it'd be one of those half walls in the bathroom by the tub so I could look at it and take a relaxing bath.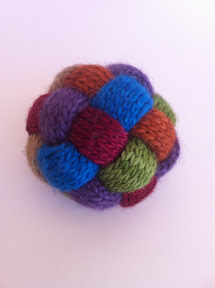 Weird, I know.
Anyway. I feel like these balls are a good solution. I have a sample of the line, I can see all the colors, I can touch it to remember how good it was to work with, it uses up leftover scraps and Luke can throw them at the TV whenever he wants.
(All y'all who said I was being such a good wifey can take it back if you want. It seems these projects might be purely selfish.)
Ps. Mid project they double as jewelry!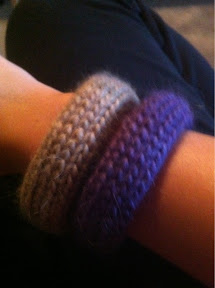 - Posted using BlogPress from my iPhone