I worked on this mildly frustrating project.
Dawn (one of the intern's at Luke's work girlfriend and a total kindred spirit) and I went down the hill from our apartment to "Old Town" where they were having a giant "thing" called territory days. I had cream soda,
Saw the worlds coolest spoon art,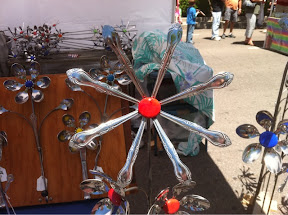 And some funny signs!
It wasn't until after Dawn went home that I realized we forgot to take a picture!
Sunday Luke and I went to a Colorado Springs Skysox vs. Fresno Grizzlies game. I very much hope tomorrows score is better.
We stopped at Best Buy and Costco to look at TVs. It's Luke's newest hobby. Then we went home where I tried out Pioneer Woman's mini meatball sandwiches, and made a lemon cake to eat tomorrow.
Yum!
- Posted using BlogPress from my iPhone