Whew. So I'm in CA. I left last Monday night. I stopped and stayed with Lukes parents and then drove the rest of the way straight. It was a long day. And kind of ugly. I saw the end of a police chase in Vegas. The white chaser car was stopped with their doors open in the middle of the freeway. Three police cars were facing it dots open with officers standing behind their doors with guns pointed toward white car. There were lots of cars behind them. I went quickly past.
I'm living with my cousin Tanya and her son Ty. Its fun living with a crafter though I miss Luke dearly. I'm still in the semi mentality that it's just a week long or so trip and I'll be back with him soon. How long til that reality hits?
Right when I got to Fresno I Amy to my dads house to transfer the last of my/my sisters things there to storage. He and Sheri have moved to Merced and will be renting the Fresno house out. The transferring was thought to take a morning but took more like 2.5 days. Sigh. I did some sorting. Something like 6 large boxes were donated and a large trash and a large recycle bin was filled stuffed full. Things I didn't keep but thought were worth taking a picture of:
A sheet set my grandma Dixie gave me when I was a kid. They were flannel. I had an extra long twin bed so she had put in an extra panel with dots. I always liked to have that part by my head.
It was somehow more special.
It also lead to my body wearing holes in the sheet because it always got put on the same way.
Giant spiffy shoes I got to wear to my first high school end of year choir banquet. Every time I would pull them out of the box in years past I would exclaim. And laugh.
Involved student plaques from elementary school. I was that "cool."
This puppet I made from scratch for puppetry class. Yep I got college credit for puppetry.
And my bear. Who never had a name or gender. But it did have music box installed by my mom.
It played Favorite Things. My mom always liked that song. Its near and dear to my heart too i guess. I kept the music box.
To keep that required some surgery.
I also re discovered some old friend tapes. 4 by Raffi, like 10 Wee Sing tapes, and some GT and the Halo Express. Yep I've been driving around for the last 4 days listening to Raffi. Judge me.
After all that purging I was in need of some color love. So I sorted buttons into an organizer I found.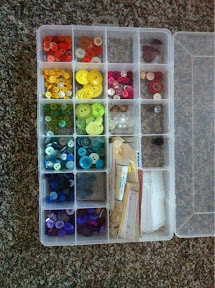 Then I needed some creative love. So I made these mini lipstick skirts to go with those doll sweaters.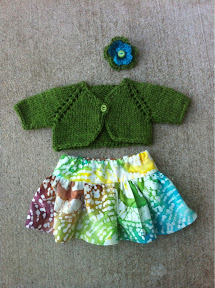 These went to two girls whose mom made them kid size versions of these skirts out of the fabric. I swiped the scraps to make the doll skirts. Cute huh?
This set is for a friend who is turning 5 thus month.
Then, one final practical project to keep me organized in the midst of all my transitioning.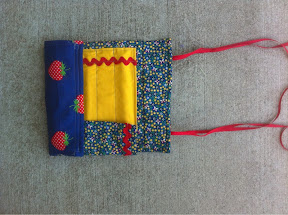 I started school today. I've decided to take some extra tests and an extra class and tack at least one single subject credential onto my multiple subject credential. It's looking like History and then either math or science maybe both. We'll see. It means a bit of studying.
Pray for me. (please.) All this has been a wee bit stressful. Will probably get a wee bit more stressful. And I missssss my Luke!
Funny thought to end with: me trying to discreetly (without drawing the attention of my neighbors) put a gorgeous sounding, big sounding, wind chime in the back yard. I already drive a bug with daisy rims do I really need more attention? Anyway. It seems I move a lot when I walk as I made a lot of noise.
- Posted using BlogPress from my iPhone