Today I ventured to the mountains. My mountains I call them, as they are more familiar to me than any other mountains, or beaches. My mountains are in CA on the shores of Huntington Lake. This lake below that I sat by to knit while my Dad and crew tried to catch fish. Note the Costco hotdog stitch marker. Thank you Cami!
This is how far I've gotten since I started my "sexy vesty" Saturday night.
So there are lots of things that make my mountains my mountains. The first makes me wish Rachel ray's idea of smellivision was real, and that is the Ponderosa Pine. It has the most subtle delicious smell of vanilla caramel. If you ever see me all cozied up with and sniffing a tree, it's probably a ponderosa.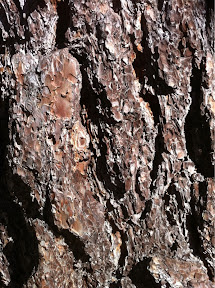 Also identified by it's puzzle piece bark and needles 3.
In my mountains you can find manzanita, translated to little apple for the tiny red berries. The smooth red bark is most recognizable to me.
My mountains have these pokey berries my mom knew were safe and would eat on hikes. I always thought peeling them was too much work. They're very sweet!
You all know about my love for lupines. It was fostered here in my mountains. Here's one that's done blooming.
I took a hike to visit my momma.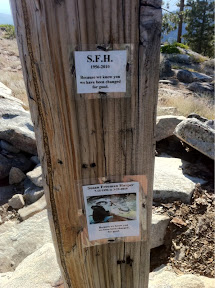 Its a nice place to be quiet and still. It overlooks what you can see of our valley through the smog.
And you can see the lake on the horizon.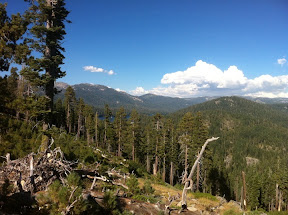 Back ?1995? there was a big wildfire. It wiped out a lot of the vegetation. I was amazed to see how much has grown back, and how thickly. Yet some of the scars from the fire are still there.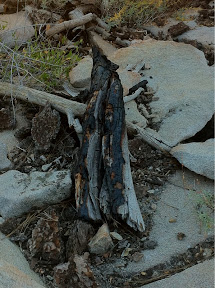 I think I feel like that a lot. Like I'm growing and flourishing and moving on in so many ways. But man that burn still hurts and the miss for my mom is still there and obvious.
- Posted using BlogPress from my iPhone