Cami and I hit up Costco and check out these beauties!
Naturally Knotty scarves in every color. So...naturally... I bought 5.
I re did this quilt block
To make it look like this:
I'm much happier with it.
I also did this one!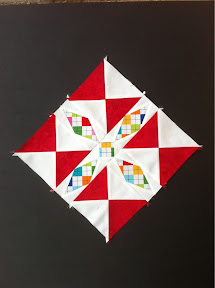 All my blocks are coming together and it has been very exciting! This has definitely been a skill building quilt along!
As promised here are ALL my Lipstick Skirts!
I looove them!
Also as promised, the winner of the pretty flower pin! (My sister is jealous as SHE missed the deadline!)
Commenters #3! That's you Jennifer L! (Or should I say Nikki?) I'll get your mail out to you asap!
- Posted using BlogPress from my iPhone