Some people get veggie boxes from local growers, I get a bucket, box, 2 bags and a jar from one of Luke's co workers parents garden!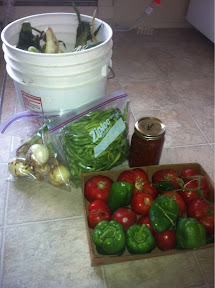 I set straight to work with the really ripe guys freezing tomato/onion/pepper bags to drop into stews on Christmas break! While I did that Cami finished two blocks for her first quilt!
Half way through my cutting my fingers started to burn. At first I thought my hands might be dry and that it was the citric acid from the tomatoes. Then when I had washes my hands several times and the burning persisted it finally occurred to me that these bad boys might be jalapeños. I sent this picture to Chris R. to double check.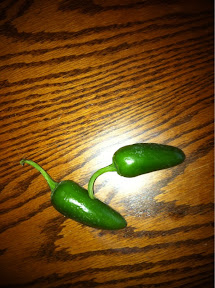 He confirmed that they were indeed jalapeños and sent a matching picture of the ones he is growing in his garden:
Twinzies! I took his advice from past experience and had Luke take out my contacts that night as my fingers were still burning. If thats not love (and trust) I don't know what is! It's definitely an exercise in communication! Next time I'll take Christa's advice and wear gloves.
I was so intimidated by the burn of jalapeño on my fingers that I only put 1/4 of one in our burgers that night. I wish I'd put in more. The zucchini was a hit though! Made my favorite way. Baked with butter, parmesan and thinly sliced onion!
Dessert? Palisade peach cobbler! Yum!
And some one in every color love:
An aisle at Hobby Lobby!
- Posted using BlogPress from my iPhone