Whew! The last two days have been like a jam packed (super fun) weekend!
On Wednesday I got together with my Mom's cousin Jill who put together kind of a "Quilters Field Trip" of the Denver area for us! First we went to Golden(just outside of Denver).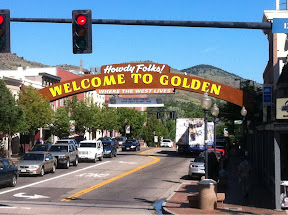 We went to the Golden Quilt Company quilt shop, and then headed over to the Rocky Mountain Quilt Museum!
We saw two quilt artists. Ann Elliot, who primarily did appliqué and had the tiniest hand quilting you ever did see,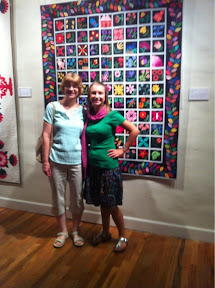 and Kathie R. Kerler who did a lot of relief hand dying with her fabric as well as intricate embroidery that looked like beading!
After the museum we met my Grandpa Don's brother Val and his wife Betty at a wonderful restaurant for lunch.
Then we were off again, this time for the Colorado State Capitol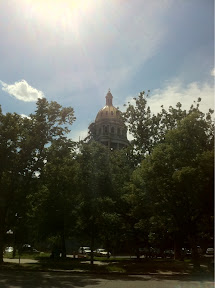 and the Capitol Quilt Show 2011, presented by the Colorado Quilting Council!
Let me tell you folks, this was cool!
There were quilts hanging EVERYwhere! After checking the program I can tell you that there were 400!!!
Some of my favorites had quite the one in every color going!
Scrappy Wedding Ring Star, Patty Boyd, Lakewood
Batik Stars and Vines, Lanie Tiffenbach, Highlands Ranch
Jewel Box, Doyne Ballard, Aurora
Jesse's Quilt, Freda Nickell, Denver
There were a couple dragon quilts that I especially enjoyed: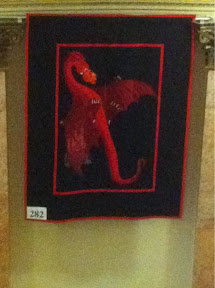 Janet's Dragon, Barbara Caves, Buffalo Creek
Settling Down for the Night, Ilene Oliver, Aurora
And I like the way that this quilt: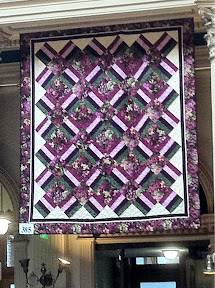 Had a pretty back as well!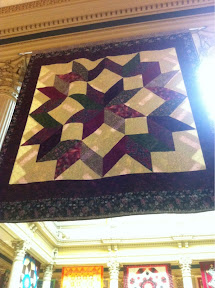 Winter Garden, Janet Lyles, Centennial
This woman had a neat idea for remembering all her students!
One school house for each year she taught with a picture of her students in the window!
A Colorful Career, Kathy Emmel, Arvada
The quilts were beautiful and fun and clever! It was a great way to see a range of skill levels and styles! It was funny to see so many people walking around looking up! We confess to a couple neck cricks and I am guilty of using the wall.
What a great day! And to wrap it up, Jill had some cool, One in Every Color, quiltish tissue packs!
I think I had quilts on the brain!
Tomorrow I'll fill you in on my field trip with Luke!
- Posted using BlogPress from my iPhone