This last week I learned the science of sitting with workshops Mon-Thurs morning, classes Tues-Thurs night and a Science single subject workshop Saturday from 8 am to 4 pm!!! Yep, my butt hurts real bad. I am, however, real prepared to sit for my general science CSET on September 10. For those of you who know my tendencies to miss this brand of exam due to oversleep or alarm issues, feel free to call me and make sure I'm on my way. (I'm not yet sure of the time or location.)
On Wednesday we had a fantastic workshop with local art/education guru Terry Allen. (He has a series on Fresno area PBS.) The whole thing was right up my alley but I ESPECIALLY loved making the color wheel! I loved it so much I made my friends Chris and Destinie pose with THEIR one in every color wheels too! They loved it.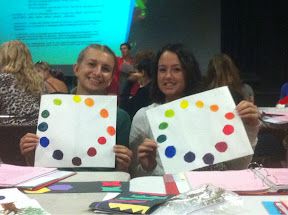 They also loved when I would jump up at the idea to integrate a standard with an art project or make a weird squee noise at a good suggestion from Mr. (Dr.?) Allen.
Among other things I also made a tree (practice with value)
and a plum (practice with analogous colors.)
- Posted using BlogPress from my iPhone