This weekend,
The Civil War Reenactment made the front page.
Nikki found the LAST Lego guy I needed.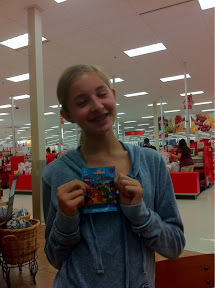 The lumber jack! Isn't he cute?!
I also found out one of my favorite authors has released a new book!
Make believe world, make believe people. No possible way any of it could be true. And this author uses just the appropriate amount of scary for me. I think I'll enjoy this one.
Also, this time tomorrow I will be on a plane to see Luke!!!
It's been 2 months. Ugh.
Im making all kinds of plans for our weekend poor guy. We've never carved pumpkins together, so that's on the list. Along with watching at least one Disney Halloween movie (of the Twitches halloweentown persuasion.) Also I think I would like to nap on the couch against him while he watches some sort of sporting event. I have high expectations folks.
Speaking of Disney/Halloween. I have found my new favorite Disney show since Lizzy McGuire. Its called Jessie. Coincidence? I think not. Jesse is a nanny for 4 kids and an icky lizard.
- Posted using BlogPress from my iPhone