So remember my new appreciation for legos? Well my buddy Jon has one too and his sister has our backs so on our regular hang put night we went on a mini figure hunt. These guys come concealed in a package and work sort of like trading cards. Anyway, we got to Target and where they were supposed to be there was this tiny little girl standing there with the last 3 packs in her hands. Agh! She was so sweet and offered us one. The sales man who was apparently watching the curious scenario graciously offered to retrieve more from the back. He brought us a cart full of mini figures and didn't object to us totally manhandling each package(in hopes of feeling out of favorites) in exchange for us putting the ones we didn't want on the display hooks.
I wish I'd had a picture or video of the scene but I was definitely in the middle of it so no such luck. Once we'd made our best guesses, and payed for our prizes we headed across the parking lot for frozen yogurt and to survey our loot.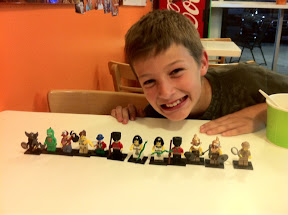 Real life person: Jon
Minifigs from l-r: Viking, Dino, woodsman, zoo keeper, short clown, British soldier, Egyptian, Egyptian, soldier, gladiator, gladiator, Sherlock Holmes.
Me with the zoo keeper and Nikki with the Egyptian princess.
Once we'd surveyed the scene and checked off the "guys" we had we opted to make one last try for the classic gangster and the boxer. We had gangster success.
I had such a fun adventure with Jon and Nikki! Who knew Legos could be this exciting?!
Also, I'd like to show off my productivity from sitting/listening moments this weekend:
A cotton chemotherapy patient hat. Warmth for cold chemotherapy room, breathability for clammy side effect. Boston Red Sox colors for a fan.
A copy cat granny square blanket. Tanya gets full credit for this one as she started her version with colors I copied and she found the tutorial and she helped me get started! Thanks Tan!
Also, I saw these lamps at Target. They match that blanket. Our shower curtain, our duvet cover, my Fresno bedspread, CSprings rug...can we get a set Luke?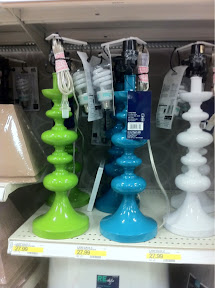 I like any of the shapes!
Nikki says these ones look like nail polish. Maybe that's why I noticed them first?
- Posted using BlogPress from my iPhone