Because I got a blue ribbon at the fair for my French Kiss quilt!!!
See here I am, pointing to my blue ribbon!
Here it is up close and personal. Only not so personal it's focused.
Here it is hanging in it's spot right inside the door!
I am pretty pleased as punch! With a touch of proud! Ok more than a touch.
And guess what!? Aunt Maggie came out with a red ribbon for her quilt (in the advanced category)
And a blue ribbon for her apron. Ok it's been gifted to Tanya but Aunt Maggie made it.
And folks, my roomie cousin Tanya took a white ribbon for her first, and giant not yellow yellow brick road quilt!!! All us alls who were entering quilts to make the show bigger and exciting not worrying about ribbons got ribbons!!! Boo yah! I'm stoked!
Jay took the bus/train in from Cal Poly and Jenny drove down from Sacramento just to come to the fair with me! It was a really special day!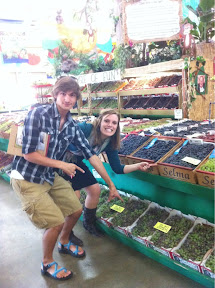 We checked out produce.
Ate garlic fries, corn dogs and cotton candy.
We looked at fine art, shout out to Keith Hartman photography for a blue ribbon! Loved this griffin out front!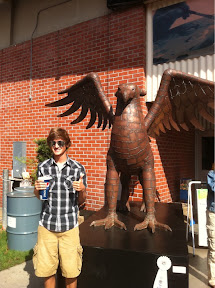 I resisted all urges to bring home an animal, from SPCA cats and dogs to baby pigs.
We also watched some very interesting steer(boy cows un boyed) exhibitions/showings. Sorry folks still learning the lingo.
On the way home Jay and Jenny helped me pick out some new Lego minifigs...because T's bday is tomorrow. But then they all turned out to be new ones. So I might have to go back tomorrow.
Wrap it all up with chili with Tanya and a movie! What a great day we had!
- Posted using BlogPress from my iPhone