What a week! The 2011 Women's Open has been in full force! Luke comes home, sleeps and goes to work! Many of you have been wondering what Luke does. It changes from day to day. He has a cool walkie talkie with a cool ear piece. He does a lot of behind the scenes stuff, getting tv sets set up, coordinating staff, answering questions. Since the Open has started we've gotten big rain every afternoon much to the dismay of all involved as it has delayed play in a major way! It has also expanded Luke's job to include valet(pulling players car's around when play is canceled) weatherman (he watches the radar like a hawk) and crowd control since everyone is seeking shelter from the rain!
Thursday I went with my friend Cami. My favorite quote from the day after hearing people clap: "Wow, it's just like on TV!" The biggest realization for me: the golf crowd is the quietest crowd I've ever witnessed! How do I transfer this experience to 5th grade?!
John and Neola, Luke's parents came into town Friday and we went to the open. Most time I've spent at a sporting event right there! It was fun!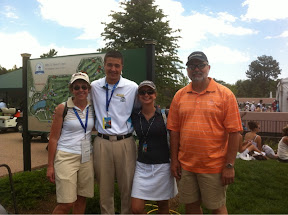 You have to display your badge when at the open. Neola got a cool lanyard for her ticket. (Johns was on his belt loop I think). We also weren't allowed to take cameras or phones! Lucky for us, Luke's primo badge allowed him to use a phone so we got pictures!
It was quite the warm sunny day. Every where you looked people were stealing shade!
Even though it meant rain we were okay with the cloud cover because it meant done relief from the heat!
- Posted using BlogPress from my iPhone