Well I've forgotten how much I dislike sewing triangles. Regardless, my first Summer Sampler Series block seems to have come out okay. I finished it last night!
I finished the second block this morning!
I've also begun this project here:
If you can guess what it is...
I'll let you enter my first giveaway!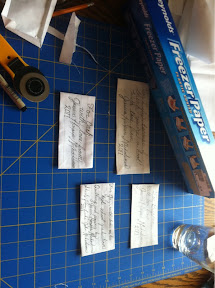 I've also made my first quilt labels! I put them on these quilts below and hopefully I can get them out this week!
That's all for now! Until next time!
- Posted using BlogPress from my iPhone