has become the quilt on his brothers lap.
I can now share this project with the world because Jay has received his birthday/graduation/everything quilt. It's from me AND Luke in that I put in a labor of love and Luke contributed his love second to me which is clothes. Some of his button up shirts to be exact. Jay, Neola and I went to the park area down the street to take these great pictures!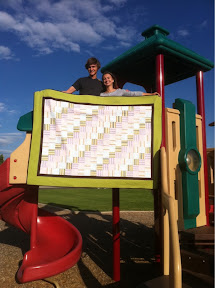 Such a fantastic quilt model. Since I had made him take the one on the playground with me looking into the sun, I told him he could take the others however he wanted.
He wasn't sure how else to pose since he thought the one above represented him so well.
See the mountains/red rock in the background? He calls the next one his Linus pose.
One of my favorite parts of this quilt is that I was able to include some pockets and tags from the shirts on the back!
The really best part: He uses it!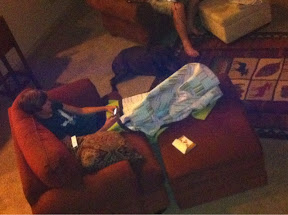 I'm glad I waited to post about it til I took pictures with Jay. These two sillies helped me with my first shoot.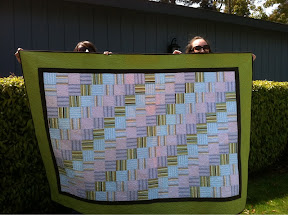 And they stepped into the sun for the picture of the back.
Like I said, sillies.
I didn't notice the shadows until later, so then we tried wonder wall and rulers. I dunno, it just doesn't make me swoon, but you can see details better.
I stippled this baby all on my ownsome! (back in Fresno, free motion, pre long arm class)
ConGRADulations Jay! We love you very much!
- Posted using BlogPress from my iPhone