My cousin Jacquie and Jenny over at Bobbins and Boys have been making some pretty fantastic clothes. I'll be honest. Clothes scare me. Sure I'm not afraid to try the latest in paper piecing but that's flat. Throw in a dart or a gather and now were talkin three dimensional! Eeeek! BUT they've inspired me. I CAN DO IT! Or at least I'll get poked to death by pins trying!
Well my mom was a clothes making guru. (Sort of comes with the territory of a Home Ec degree) She and I had purchased this grey tweedy fabric together and planned on making some cute "work skirts." As we now know, THAT didn't quite work out. Since I've had this summer to sew I finally dug out the fabric and the patterns and got to work.
I learned a few things along the way....like if one part is going to be bigger than the other let it be the lining because some extra gathers on the inside won't show the way they will on the outside.
I also learned that the invisible zipper foot is my true life BFF.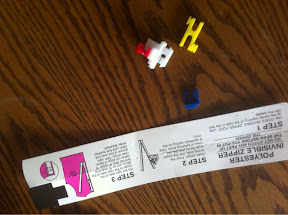 I learned that lesson a little late.
I also learned scraps can make some cah-yoooot accessories!
I put alligator clips on them so i can wear it in my hair OR if I want to wear it on clothes or a bag I can safety pin my shirt and use the clip to attach it!
I also made an attempt a a full circle skirt... But I made my inner circle cut too big (the middle of the donut) so now I have a full circle gathered skirt. I'm gonna get dizzy spinning in that one!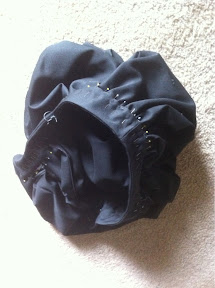 Yay for pins!
Much to the dismay of my sister and husband my Birkenstocks came yesterday! Yay!
After seeing them in two fashion magazines I disregarded all input from Val and Laura. As Luke says, at least they're better than crocs.
While the gathered full circle skirt began hanging last night to let the bias stretch I started this "Lipstick Skirt". This is my kind of clothes making! It reads like a quilt pattern, and you use your rotary cutter! AND it's FAST!
I had started it at about 6 and finished it by 9:30. Check it out folks. It's called The Lipstick Skirt and it's by Bananafana.
LASTLY
I've got another giveaway! I'm giving away one of my flower clips!
To enter, just leave a comment by 11pm on Monday, August 1st. You don't need to have a blogger account to enter,(check the box to comment anonymously and sign your name at the bottom) just make sure you check back to get me your mailing info if you did win!
- Posted using BlogPress from my iPhone