Don't get grossed out but this one was inspired by the need to use up some smooched melted Reece's Peanut butter cups I
Had forgotten in my purse after the Harry Potter midnight showing!
First take a talespoon of peanut butter a tablespoon and a half of butter and three spoon of cocoa powder and microwave for 30 seconds, stir, and repeat until all coco powder is dark.
Add 3/4 cup half and half, and a cup of sugar. (I know not what I have pictured but I added more.) Stir an microwave again. You could easily do this stove top but I'm trying to avoid any and all addition to heat in this tiny little apt. Basically you heat and stir to combine. I added a chunk of unsweeted baking chocolate in the process. Then I put it in the freezer stirring it every 15 min or so with the milkshake attachment on my hand mixer.
Between mixes I cut up two packs of Resses (previously Leo in freezer to make for quick and easy chopping.)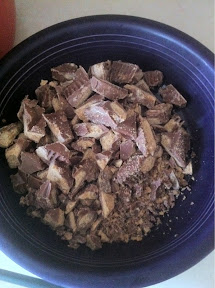 Then I whipped some heavy whipping cream. Half a container.
I put the cream and Reeses into the freezer to stay cold. Got the ice-cream maker set up and added chocolate peanut butter mixture. When it got to the consistency of a half melted frosty I added the whipped cream. While it was mixing I prepped my cups.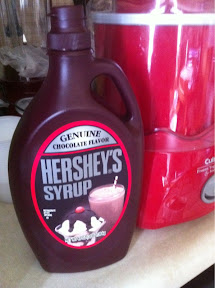 Starbucks style cup prep!
Scoop, sprinkle more Reeses on top, lid and quickly put in the freezer!
Then enjoy. Luke says this one is the best yet!
- Posted using BlogPress from my iPhone