At the 2009 Quilting in the Pines quilt retreat put on by Quilter's Paradise of Fresno I made this pincushion with some beautiful fabrics gifted to me by Cindy at Live a Colorful Life.
I had at one point planned to make more but life got busy, mom passed away, Luke and I got married, I went back to school and spent a lot of time sorting through post mom aftermath. When I finally got to it, I couldn't find the pattern!! Gah! I called Quilters Paradise to see if they by chance still had a copy of the pattern! Sure enough they did and sure enough the pattern and a dresden template were on their way to me!
My first one was for someone I had promised one to before the wedding.
My second was for a big Beetles fan for whom I had been hoarding the perfect fabric I had found in Grand Junction!
Then I got to thinking about one of our flower girls Abbey who recently received a sewing machine and lessons from her grandma. I was told of how she reminded her grandma, Luke's Aunt Becky, of me when she walked into the fabric store loving all the color. I thought to myself, she needs a pin cushion, and well she needs something that incorporates ALL the colors. The one on every color dresden pincushion was born.
Of course I couldn't just make one.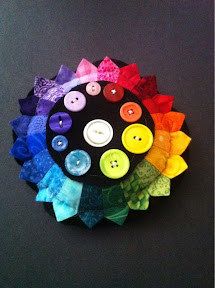 But what to do with it? I have one already and I have a fantastic selvedge one that has a special spot in my heart.
In our one bedroom apartment there is such thing as too many pincushions!
So. I've decided to do my first giveaway! I'm going to (gulp) give away this beautiful one in every color pin cushion.
To enter, leave a comment by Wednesday July 20 including your favorite item that comes in every color, why you would looove to have this pincushion, or anything else you want to comment. I'll put your name on a piece of paper and Luke will draw the winner. NOTE: YOU DON'T HAVE TO HAVE A BLOGGER ACCOUNT TO COMMENT you can comment anonymously just be sure to sign your name, and then check back next week to see if you've won! I'll put in an extra entry for you if you're an official follower of my blog. Best of luck!
- Posted using BlogPress from my iPhone