Out of need to do something for my birthday I decided to get my hair cut. I'd been thinking about it for a while...
Before:
During:
After:
Dinner:
Waffles by Luke. He doesn't believe they belong in dinner time, and he doesn't believe I make them right soooo waffles by Luke for dinner is a special treat!
Today at the farmers market I got some rockin' onions.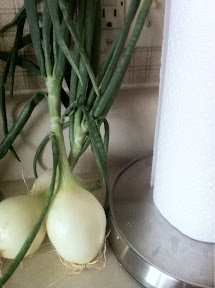 I grilled em up and used em to make Pioneer Woman's Marlboro Man Sandwich.
Delicious. Yum. Soooo good. I may have left mine on the grill a bit too long a it was a bit dry. I poured a little Italian salad dressing with the vinegar to oil ratio switched an wooooh-ie that did the trick.
Topped off with some pilaf, corn and a piece of basil for color.
- Posted using BlogPress from my iPhone