I'm working on my first grown up quilt since my French Kiss Leuke quilt. Grown up in that it has multiple points to match and more pieces than usual! It's a gift but I'm banking on the recipient duo not being a reader! Blogging is part of my process, I couldn't withhold it any longer!
Here it is in squares:
Assembled:
It's a wee bit too small. Many recomended a skinny red and brown border. It was important that the border be scrappy too as I didn't have any large pieces of colors.
Then I remembered I had inherited this:
So I started working on this: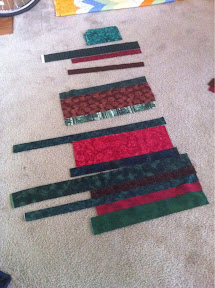 Now I have to decide if I want the finished border to look like this:
Or this:
Thoughts?
- Posted using BlogPress from my iPhone