Yesterday was National Knit in Public/National Yarn Bombing Day! We (The Stitch Wits and library teen group) met at the library to assemble our yarn graffiti! These two were already working when I arrived!
Here we are seaming my piece to the others!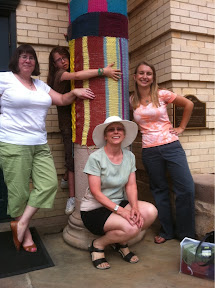 It's on! Here's our wonderful librarian coordinator! She's one of the coolest, warmest, caringest people you'll ever meet! After being gone all school year she made me so welcome it was like I'd never left!
Here's our whole group of yarnies!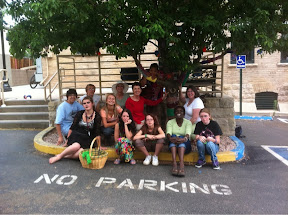 Did I mention the teens helped assemble and pom pom?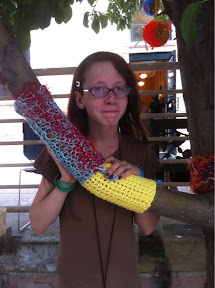 Remember how Mark, my brother in law, and I spent the day watching Bones an making yarn graffiti? Here is his piece decorated with some flowers and leaves! Can you spot it?!
How about a closer look?
This friend from Stitchwits is a flower expert! I gave her Marks brown piece and she jazzed it up!
What a fun afternoon!! I was so giddy the whole time!
- Posted using BlogPress from my iPhone