I really can't decide what kind of tutorial to give you for making a bag. Each bag I've made has come out different! Here's the bag I made with the plarn product featured in the plarn making post. That whole bag was made with the bags that filled a cupboard in one of Luke's college apartments.
What I like about this bag is the dense basket-like structure, that it's size reminds me I'm only buying veggies and fruit for two, an that it can double as a lunch bag or even a knitting bag because it's so dense.
I started this bag last night. Instead of quartering the bag when I cut loops I cut it into 6ths(this made the Plarn more fine), and this time I tried knitting. I modified a pattern I found on Ravelry to make it smaller. *Remember* Plarn stretches. Your bag will grow more than you think.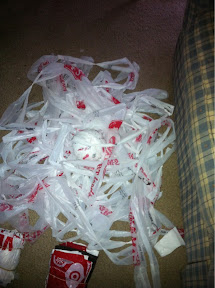 I used about two of my packets of bags until I had a ball this big:
Funny, I still had this much left.
Really I just kind of make things up as I go. If anyone out there begins to try this adventure an wants me to kind of write up a formula for the bag they want just comment or send a message! You should probably stay tuned because there's a high chance I'm going to be swimming in bags soon and needing to do a give away or two. Yes, it will require commenting. Don't worry though, commenting doesn't require an account.
- Posted using BlogPress from my iPhone