Yesterday Luke took me clothes shopping for my birthday. Clothing shopping is not my favorite, but I picked out some solid color t's he picked out some pieces of interest and we were good to go! Plus we finished off with Caramel Milk Chocolate apples from Rocky Mountain Chocolate Factory.
Will go shopping for treats.
We made it back in time to go to one of the churches in our area only to find that there was no one there for there evening service. Sigh. Chrch hunting is no fun. Why can't they have a church dating service? You know where they match you up with churches that are a good fit?! Looking for church, multiple services to accommodate golf job, not mega church, sports playing mens groups, quilting group, similar beliefs preferred.
Today was the last session o machine quilting. Exciting but sad! I was just starting to get the hang of it! Now I get to go in for some practice sessions and I'm pretty excited!
In my dream house I have a room next to my sewing room just for this machine.
Last day of class picture with my teacher Rita Arnson!
I took one of the featherweights I inherited from my mom to Stitch-wits at the library Monday night. It was fun to let people try the machine and see how fun they are. It was interesting for people to try to understand how I came to be the owner of two and how I came to know about them. I always reference my mom and it's so tricky when I, and other people, reference her in present tense. Sometimes I forget she's gone or don't want to be the kill joy in trying to let them know shes past tense. She's no longer alive.
Along that note I came across some cards I received and papers from just after she died. I confess I still can't go through them, or even respond to them. They're very meaningful. I keep them because they're special and I'd like to get back to the people who wrote them but it brings up some raw hurry feelings that I don't really want right now. Not sure what to do with that. But it's there.
Yesterday for breakfast these hash-brown cakes were my little foo triumph.
This is what I used along with one egg.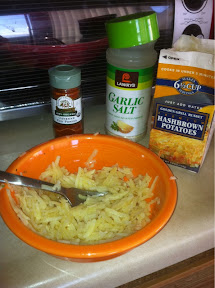 I tried to do a drive by of one of many billboards and ads for the Women's Open around town. 11 days until it starts! Luke says the grandstands are all up and the East Course is officially closed so that it can be at it's best!
I went to downtown Colorado Springs to check out the yarn graffiti there. It was pretty cool!
- Posted using BlogPress from my iPhone